Overstrand Municipality scooped this year's National Arbour City Award for local municipalities. The awards event took place in Mbombela on 1 September 2022 to coincided with the launch of Arbour Month.
Cllr Ronald Nutt, Mayco Member of Community Services and horticulturist, Lauren Rainbird, accepted the award on behalf of the Municipality. Also in attendance were Deputy Mayor Lindile Ntsabo and the Deputy Director of Community Services, Theo Steenberg.
To win, municipalities had to submit a portfolio of evidence fulfilling a number of requirements.
The judging criteria focused on some the following aspects: Greening policy and strategy, the development and conservation of greenbelts, natural assets, greening in (townships), low-income cost housing, Management and maintenance operations, Tree administration, Programmes on eradication of undesirable alien invasive, Prevention of disastrous occurrences like wild-fires, Resource allocation to greening and related functions.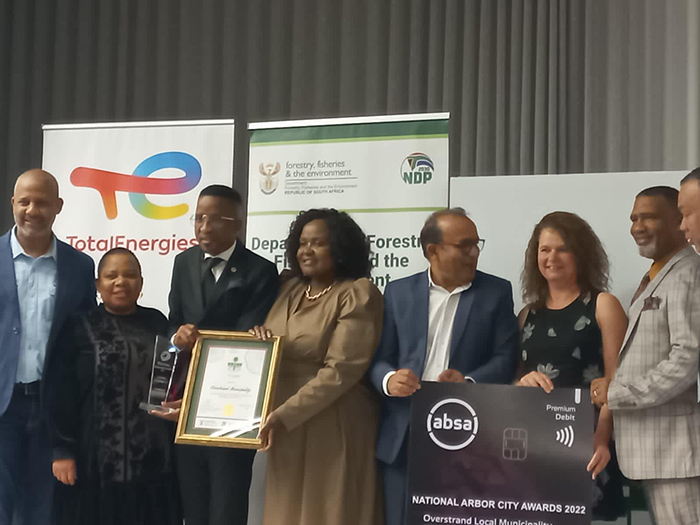 Overstrand Municipality's Parks Department and Environmental Management Section planted more than 1 000 trees the last three years.
This Arbour Month we will have planted another 100 trees throughout the Overstrand.
A project that caught the attention of the judges was the tree mapping project which provides extensive data on most of the trees in the Overstrand.
The mapping project helps us to effectively manage and maintain the Municipality's trees.
The dataset can be used as a foundation to compare suburbs of similar size, effects of parks and recreational facilities on canopy percentage and to focus tree planting in less leafy areas, ensuring proper maintenance plans are in place to ensure tree survival.
A very proud Cllr Nutt said, "The award is well deserved and highlights the directorate's hard work."
He applauds the staff for winning top prize in the 2022 National City Arbor Awards. He added that this competition aims to recognise municipalities that are doing their best to green their surroundings and to encourage others to do the same.
Cllr Nutt also mentioned that Overstrand Municipality has a proud history of increasing our green infrastructure and stated the Municipality was shortlisted for this award in 2017 and came second in the competition for 2018 – proving once again that the Overstrand Municipality is serious about greening.
He thanked the National Department of Forestry, Fisheries and the Environment (DFFE) for running this programme together with the Institute of Environment and Recreation Management (IERM) and TOTAL South Africa (TotalEnergies), for the past 20 years.