The Overstrand Municipality in partnership with the South African Police Service, officially launched Safer Festive Season Operations 2022/2023, on Friday, 2 December 2022, at an event hosted by Overstrand Municipality.
Amongst the dignitaries attended the event, were the honourable Dr Annelie Rabie, Executive Mayor of the Overstrand Municipality, and several Councillors, some of whom also serve on her Mayoral Committee, SAPS District Commissioner, Major General Mochologi, Municipal Manager. The event was organised by Director Michaels and his team under the leadership of MMC Lindile Ntsabo.
The Safer Festival Season Operation plan is aimed at ensuring the safety of residents and visitors in and to the Overstrand safe during the festive season. It further aims to increase police visibility and conducting visible operation throughout the season and beyond.
This event marked the official handover of a new mobile police station, that will be situated at Zwelihle, and will be servicing not only the Zwelihle community, but the surrounding communities as well.
The message, from all the speakers, was that "there is no space for criminals in the Overstrand".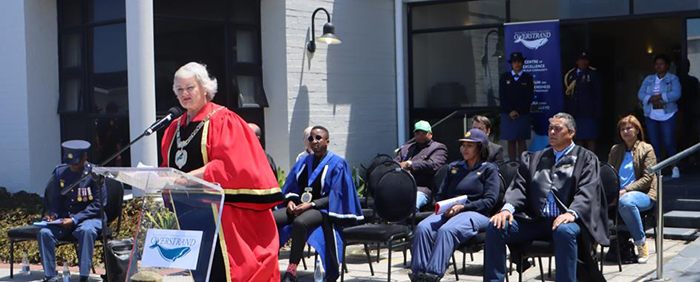 All Law enforcement agencies were urged to act with force but within the Law, when dealing with criminals.
Communities in and around the Overstrand are also urged to remain extra vigilant of their surroundings in a bid to ensure they do not become victims of crime.