As more vaccines arrive in the province, the Western Cape will be able to open more sites and vaccinate more people, this is part of our scale-up approach.
We understand that people who are registered are determined to get vaccinated as soon as possible but we have only received a limited number of vaccines and therefore are only able to vaccinate a limited number of people.
For this week the Overberg has received a total on 2586 vaccines and expects to receive a further 3120 vaccines on Thursday.
We ask that the public remain patient while more vaccination sites come online and we receive more vaccines in the coming weeks.
We ensure the public that we will vaccinate all registered people as soon as possible.
As at the end of 27 May, we have vaccinated 810 eligible persons at 12 Old Age Homes across the Overberg District.
This coming week, the Department will be bringing online 10 public vaccinations sites/service while continue outreach visits to Old Age Homes. The sites are as follows:

31 May
Caledon Hospital
1 June
Tesselaarsdal Satellite Clinic
Grabouw CHC
2 June
Genadendal
Bereaville Satellite Clinic
Voostekraal Satellite Clinic
Stanford Clinic
3 June
Napier Clinic
Greyton
4 June
Hawston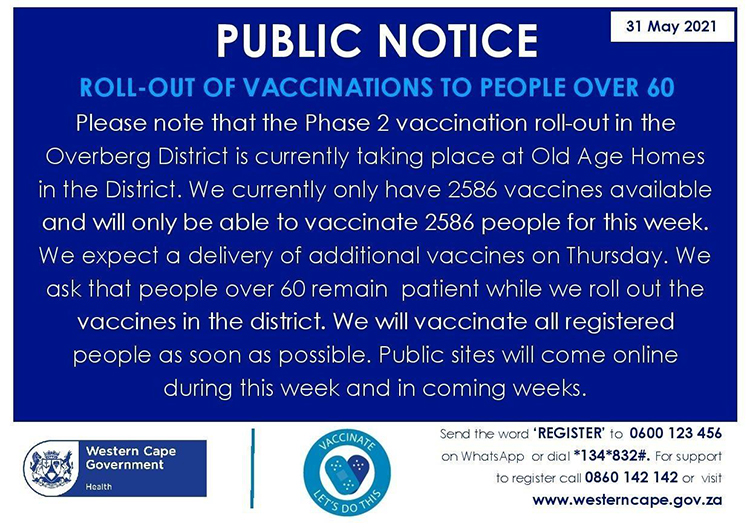 Our facilities are being inundate with calls and visits relating to the vaccine, we would also appreciate your support by waiting for your second SMS, as it will enable our sites to operate more efficiently. These SMSs will be coming in greater numbers as all these sites come online.
We also encourage everyone who is 60 or older to please register for your vaccine. If you are not yet 60, please help someone who is. We are all in this together.
The time has come to fight back against Covid-19. #LetsDoThis, Western Cape.
– Issued by Overstrand Municipality obo Western Cape Government: Health