Africa's Travel Indaba 2023 at Durban's Inkosie Albert Luthuli International Convention Centre officially ended on 11 May 2023, after three days of intense connecting, marketing and networking. 
It is a platform for all tourism players and exhibitors from Africa's 21 countries to showcase their best tourism products and offerings.
Any business wanting to attend the Indaba can do so – as a stand-alone product owner or a collective.
This is the first year that Overstrand Municipality had its own separate stand. In previous years Overstrand was allocated a small desk on the Wesgro stand.
Overstrand was well represented at Indaba 2023 with Marine Dynamics exhibiting on the Cape Country Routes; The Marine Hotel and White Shark Projects on the African Travel and Tourism Association stand; Michael Phillipson of Arabella Hotel Golf and Spa on Southern Sun stand, Mosaic Lagoon Lodge was part of Inspirational Places; Coot Club part of the Classic Portfolio and Nydia Carelse at the Hidden Gems SA Tourism stand while Grootbos Private Nature Reserve and SA Forest Adventures had their own stands.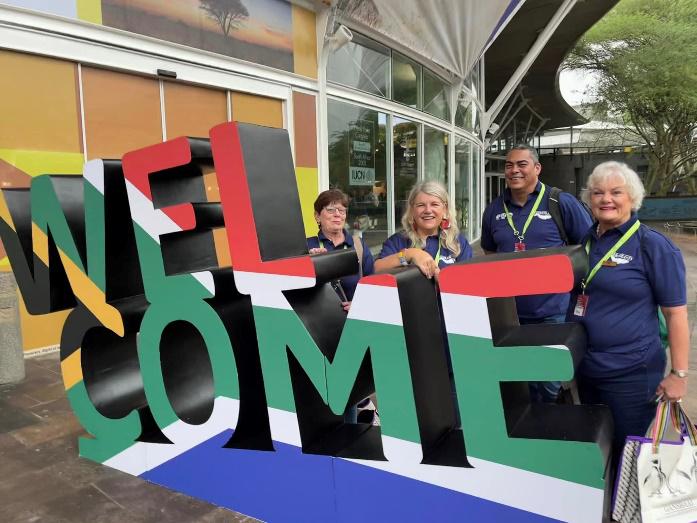 Also at the Indaba were Annamarie Sales of Pottingshed Guesthouse, Charl de Kock of Whale Coast Hotel, Madeleine Smuts of The Windsor, Alta Pretorius of Hermanus Business Chamber and Jeanette du Toit of the Hermanus Whale Festival.
The plan is to see how a more extensive group of stakeholders can be taken to Indaba in 2024. The organisation of a travel show attendance is a task on its own and insights gained will be incorporated into future plans and strategies.
Indaba is a big win!
Gansbaai Tourism Manager, Glenda Kitley, has been attending the Travel Indaba since 2003 but this year she shone even brighter.
She was rewarded for all her efforts to promote the Overstrand and Southern Coast of Africa by winning a diamond in the Northern Cape Tourism's lucky draw.
Every year the diamond industry donates two diamonds as part of a competition which includes accommodation prizes. Glenda has entered every time she attended the Indaba, but this year she got lucky!
Glenda commented that this year's Indaba was more personal and the connections valuable in driving more visitors to our area.
Shark cage diving and marine big five excursions and other activities are a big draw card.