The Civic Precinct of the Central Business District (CBD) of Hermanus is set for rapid development in the next year, once funding has been secured.
The Civic Precinct forms part of Phase 2 of the Hermanus CBD Revitalisation and Regeneration and includes the civic and local authority land uses around the traffic circle intersection of Main Road (R43) and include the magistrate's court, the police station, library, municipal offices and public transport and parking facilities. Royal, Church, Magnolia and Patterson Streets as well as Harmony Avenue will be affected.
The CBD Regeneration Framework was approved and adopted as a sectoral plan of the Spatial Development Framework (SDF) by Overstrand Municipality in 2016.
The plan makes provision for the regeneration of the CBD through six separate projects, of which the first project – the High Street development – has been completed.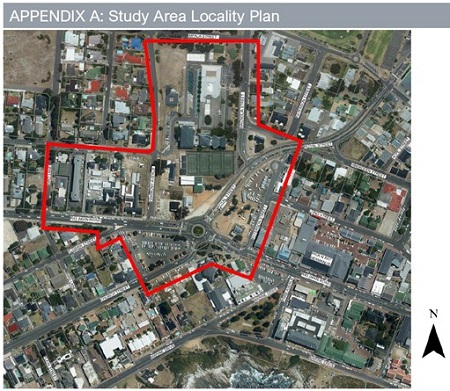 The other projects include the upgrade of the taxi rank/civic precinct, Swallow Park and coastal promenade, Mitchell Square redevelopment, the improvement of Lemm's Corner and the Old Harbour Precinct (in no specific order).
Mayco Member of Investment and Infrastructure, Councillor Clinton Lerm, said the proposed Civic Precinct upgrades would provide an attractive entrance to Hermanus and will also contribute to vehicular and pedestrian safety and smoother traffic flow.
HHO Consulting Engineers, the appointed consultants have now completed Phase 1 of Civic Precinct after assessing the comments received on the draft Civic Precinct Plan.
The project is now entering the next phase which includes the preparation of designs, specifications and procurement documentation for urban infrastructure and traffic improvement intervention as proposed in the Civic draft Precinct Plan.
The upgrade proposals have been clustered into the following four projects:
Taxi Rank: Currently the taxi operation only utilises a portion of the site. It is proposed that the entire site be developed to increase the taxi operations for the future. In addition to the taxi operation, provision is further made for parking, admin and ablution facilities and wash bays. Preliminary cost estimated for redevelopment is R18,5 million.
Church Street Precinct: The parking area adjacent to the Dutch Reformed Church to be upgraded and parking re-blocked. Pedestrians walk-way to be upgraded. The access from Main Road into Flower Street will be closed to ensure safe and better pedestrian movement. Myrtle Street and Flower Street to become a one-way. Cost is estimated at R5.5 million.
Harmony Avenue Precinct: Harmony Avenue to be changed to a left in left out. Creation of a raised middle island. Additional parking bays to be created in Harmony Avenue. Cost is estimated at R2.3 million.
Royal Street Precinct: Include new motorised transport pathways and realignment of the pedestrian foot paths and widening of the southbound approach to double carriage way. Cost is estimated at R2.7 million.
The proposal for the Civic Precinct is available on the municipal website www.overstrand.gov.za click on Documents, Strategic Documents and then Hermanus CBD. Alternatively download the document here: https://www.overstrand.gov.za/en/documents/strategic-documents/hermanus-cbd