On 27 January 2022, Overstrand Municipality in collaboration with Western Cape Government via its Provincial Treasury Department awarded bursaries to six beneficiaries from Overstrand.
Bursaries are awarded within fields relating to local government, in particular the fields finance, economics, accounting, supply chain management, internal audit, risk management and infrastructure.
The four students who received financial aid in the previous year, qualified to apply again for a bursary as continuing students. They are Mia Burgess (Gansbaai), Renaldo Dickson (Stanford), Liam Africa (Hawston) and Kyle Philander (Mount Pleasant).
The two new beneficiaries who have been awarded bursaries are Xanti Mgoqi and Ayakha Kamana, both from Zwelihle.
The bursaries will cover the learners' tertiary registration fees, tuition fees as well as accommodation.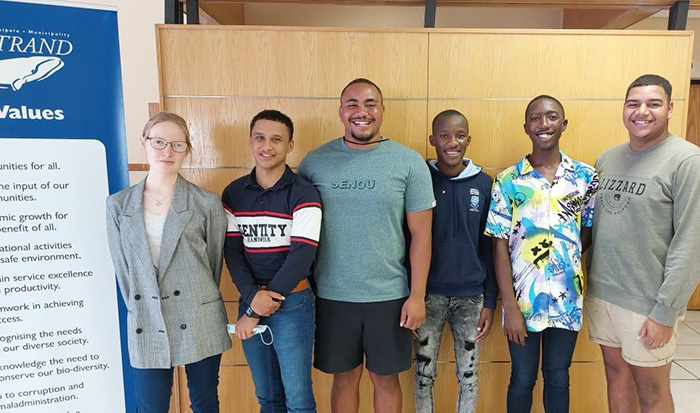 The aim of this bursary programme is to assist performing learners and learners with potential to succeed in Higher Education Institutions who do not have the financial means to study towards a qualification.
Addressing the beneficiaries, Cllr Arnie Africa, Chairperson of the Management Services portfolio in the mayoral committee, encouraged the students to start working from day one and be disciplined throughout the whole year. "Use the education you will receive to help realise your dreams." However, have fun and enjoy yourself too, he said.
ISSUED BY the Overstrand Municipality's Chairperson of the Management Services portfolio and Ward Councillor for Ward 8, Arnie Africa