60 Blue Flags will be proudly flown at 51 beaches, five marinas and by four sustainable tourism boats around South Africa over the forthcoming 2021-2022 South Africa Blue Flag season, which opens officially on 1 December this year.
The award also allows for potential Blue Flag sites to participate in a pilot programme. Thirty-three Pilot beach sites were recognised this season for their efforts toward reaching Blue Flag status in the near future. With a national goal of 100 Blue Flag sites by 2030, all efforts are now focused on assisting these pilot sites to become fully awarded with the Blue Flag.
This was announced at the national Blue Flag launch hosted by Overstrand Municipality at Grotto Beach on 27 October 2021 in recognition for their excellence in safety, amenities, cleanliness and environmental standards.
Blue Flag South Africa is proudly in its twenty-first year. In 2001, South Africa was the first country outside of Europe to join the Foundation for Environmental Education (FEE) on the Blue Flag Programme. Since then, many countries outside of Europe have followed South Africa's example and joined Blue Flag giving the programme its international recognition.
The award ceremony was attended by Shamilla Chettiar, the Deputy Director General of the National Department of Tourism, Overstrand Municipality Executive Mayor, Dudley Coetzee, and the new CEO of WESSA (Wildlife and Environment Society of South Africa), Dr Andrew Baxter.
In his welcome address at the launch, Mayor Coetzee gave his commitment to a safe and clean environment where tourists from all over the world can indulge in the treasures so generously offered along this part of the Western Cape coast.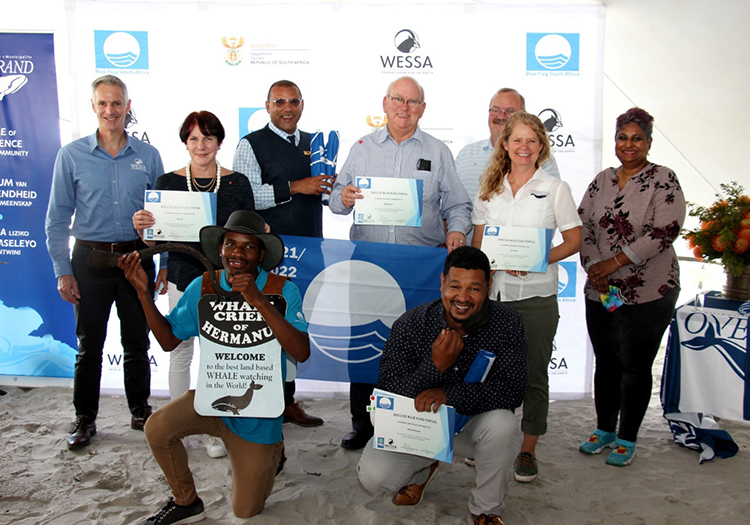 "Today will indeed go down in history as a memorable occasion for the Overstrand, and specifically for Grotto Beach. In terms of Blue Flag status, Grotto Beach comes of age – the year 2021 marks the year in which the Blue Flag will be hoisted on Grotto Beach for the 21st consecutive year," a clearly pleased Mayor said.
He added that no-one can deny that the tourism, hospitality, and entertainment industry has suffered as a result of the Covid-19 pandemic and the associated restrictions.
"We are also all in agreement that everything possible should be done to help get these industries back on their feet in the interest of safeguarding the livelihoods of coastal communities like the Overstrand where our communities largely depend on the income they derive from tourism."
"With this objective in mind, Overstrand Municipality strived to maintain the integrity of our beaches and estuaries – despite the circumstances resulting from the Covid-19 restrictions."
The Mayor concluded by saying that this summer season we are reaping that reward. "We will not only be hoisting a Blue Flag on Grotto Beach, but also on Kleinmond Beach, Hawston Beach, Castle Beach in Pearly Beach, as well as a on Onrus Beach", he said.
Speaking on behalf of the National Department of Tourism, Shamilla Chettiar, in her keynote address for the day, praised the tourism sector for being resilient and rising again. She said that South Africa's strong relationship with our stakeholders will be built on to bring back tourists to our shores.
Ms Chettiar went on to say that Blue Flag represents excellence in service delivery by municipalities, who are the heartbeat of our country.
"WESSA continues to celebrate the great work of Grotto Beach and the Overstrand Municipality, hosts of the 2021/2022 launch, who proudly achieved their Blue Flag status for 21 years", she added.
WESSA is committed to continue working together with municipalities and tourism operators to build the Blue Flag programme to its full potential and to restore the tourism industry after the devastating effects of COVD-19. "We also aim to expand on conserving our marine and coastal environment, raise environmental awareness and increase sound environmental practices amongst tourists, coastal communities and beach managers".