The handing over ceremony of a Pink Rescue Buoy for Castle Beach was a fitting way to celebrate Earth Day on 22 April 2021.
The event, held at Pearly Beach near Gansbaai, saw Pearly Beach Conservancy chairperson, Susanne Fuchs, unveil an emergency flotation device mounted on a pole next to the boardwalk that will hopefully remind people to take care when entering the water. The Pearly Beach Conservancy donated the pink buoy to the community.
The rescue buoys are bright pink so that they can be easily spotted on the water by responding rescuers. The pink colour is also unique to NSRI.
Susanne Fuchs thanked Tom Brooks-Simon and the crew of the NSRI Hermanus Station 17 in their absence, for planting the Pink Rescue Buoy.
Graphics on the pole advise that the buoy should be thrown to someone in distress, that an untrained rescuer should not get into the water to try and rescue someone and provides two telephone numbers to dial for help.
Fuchs said the Pink Torpedo Buoys have proved to be effective flotation devices for people in difficulty in the water, until professional help arrives.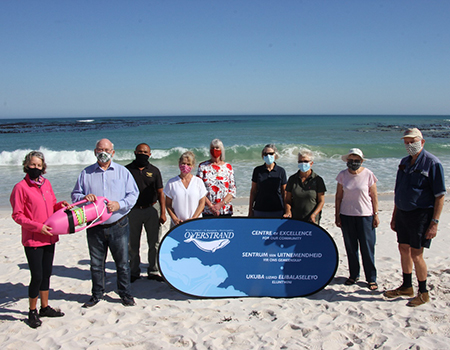 Overstrand Executive Mayor, Dudley Coetzee, had high praise for Sea Rescue and urged all beachgoers to take care of these easily identifiable bright pink lifesaving buoys.
If you see a Pink Rescue Buoy anywhere other than on its pole you can be sure that it belongs to Sea Rescue and should be returned to its sign. On each Pink Buoy there is a location number and Sea Rescue's head office number.
Remember, a stolen Pink Buoy is a stolen life.
The NSRI Pink Rescue Buoys are placed at beaches and lagoons along the Overstrand coastline where there is a danger of people drowning or needing rescue. He said that people who visit our beaches do not always know what rip currents are, or that they are the biggest danger that swimmers face.
The Mayor emphasised that the Pink Buoy project needs the support of the community in which they are placed. "If the community takes ownership of the project the pink buoys will only be removed from their holder in an emergency and will be replaced afterwards," he said.
In all cases the NSRI emergency contact number (National) is 112.
Alternatively, phone NSRI Hermanus on 082 990 5967 or NSRI Cape Agulhas on 082 990 5952.
Any emergency and/or distress call regarding drowning or accidents can also be reported to the Municipality's 24-hour FIRE & RESCUE EMERGENCY ONLY number on 028 312 2400.