Following various enquiries and complaints about the monthly municipal accounts, with regard to water consumption, or zero consumption invoiced on the accounts, the Overstrand Municipality would like to share the following information:
1) METER READINGS
The Municipality, since August 2021, had several meter readings challenges but we can confirm that this has improved significantly, and we trust it will be solved by 31 March 2022. The areas still posing a challenge are meters inaccessible to read, or in areas where plots/properties are significantly overgrown. There should thus be only the minimum number of water meters accross the whole of the Overstrand area that are still investigated in this regard.
The Municipality monitors and analyses a system generated exception report.  Due to the Overstrand being a holiday destination with related property ownership, unpredictable occupation of properties occurs, impacting on consumption patterns and the valid exception classification for holiday homes.
The following serves as an example of invoicing consumption on an account, to demonstrate afore-mentioned:  
September consumption due to occupation    =   4 kl
October consumption due to no occupation     =   0 kl
November consumption due to no occupation    =   0 kl
December consumption due to occupation    =  12 kl
Above example explains the possible impact of water consumption of 4 kl in one month, and 0 kl consumed per month for the next two months, and then a consumption of 12 kl in the fourth month, will result in more than 100% spike/deviation, but does not mean the reading is incorrect at all.  This is mainly due to variances in occupancy levels of the property.
Furthermore of importance to note is that actual consumption for December will only be invoiced and reflect on the January account when the reading for the period is available.
The dates between readings also play an important role as the system provides for calculation in accordance with the number of days, thus, if it is a longer period, you will receive more kl units consumed per sliding scale, to avoid incorrect charging, (example, 45 days' consumption will be calculated as 30 days as well as another 15 days on the lower tariff of the sliding scale).
It is therefore important that you check your monthly account.  It is not possible to work on linear projections and assumptions, being a holiday destination is the varying occupancy levels.
Below are the different areas and the planned monthly dates for meter reading for the specific area. These dates are subject to weather and coordination of capacity/weekend dates: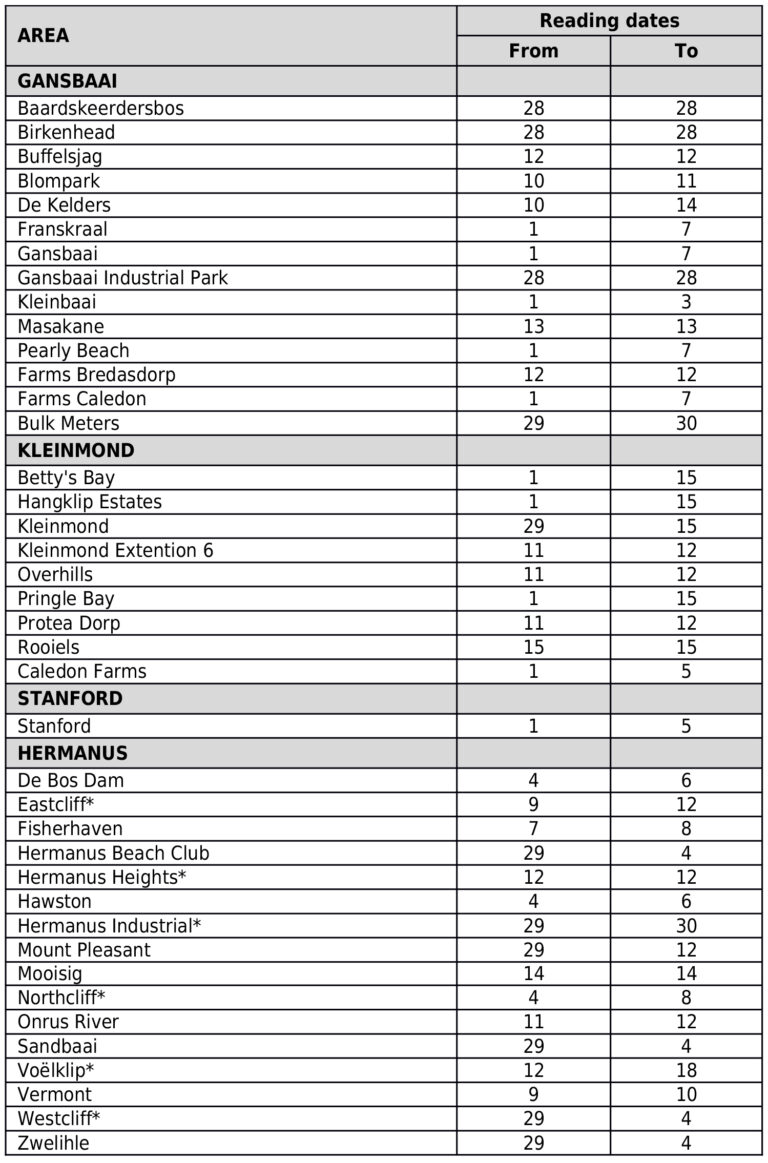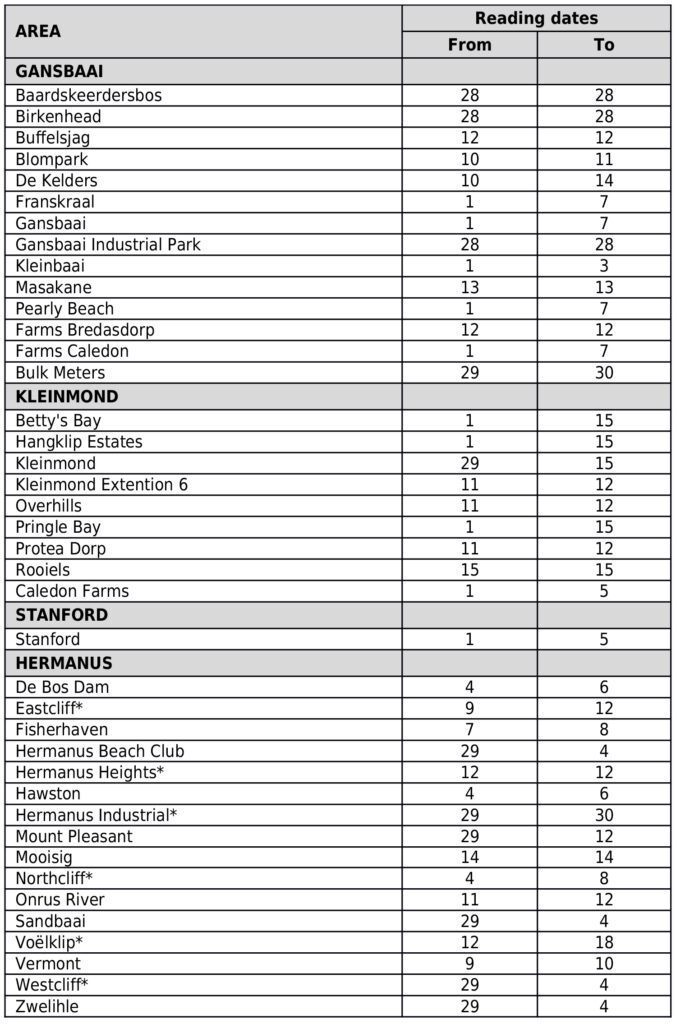 2) METER REPLACEMENTS
The Community Services Directorate of Overstrand Municipality has an ongoing replacement program for water meters older than 12 years. 
The areas affected/impacted in some instances substantially, with consequences on subsequent meter readings and invoicing in the consecutive periods only.  These spikes will be deferred as indicated below.
The replacement program is as follows: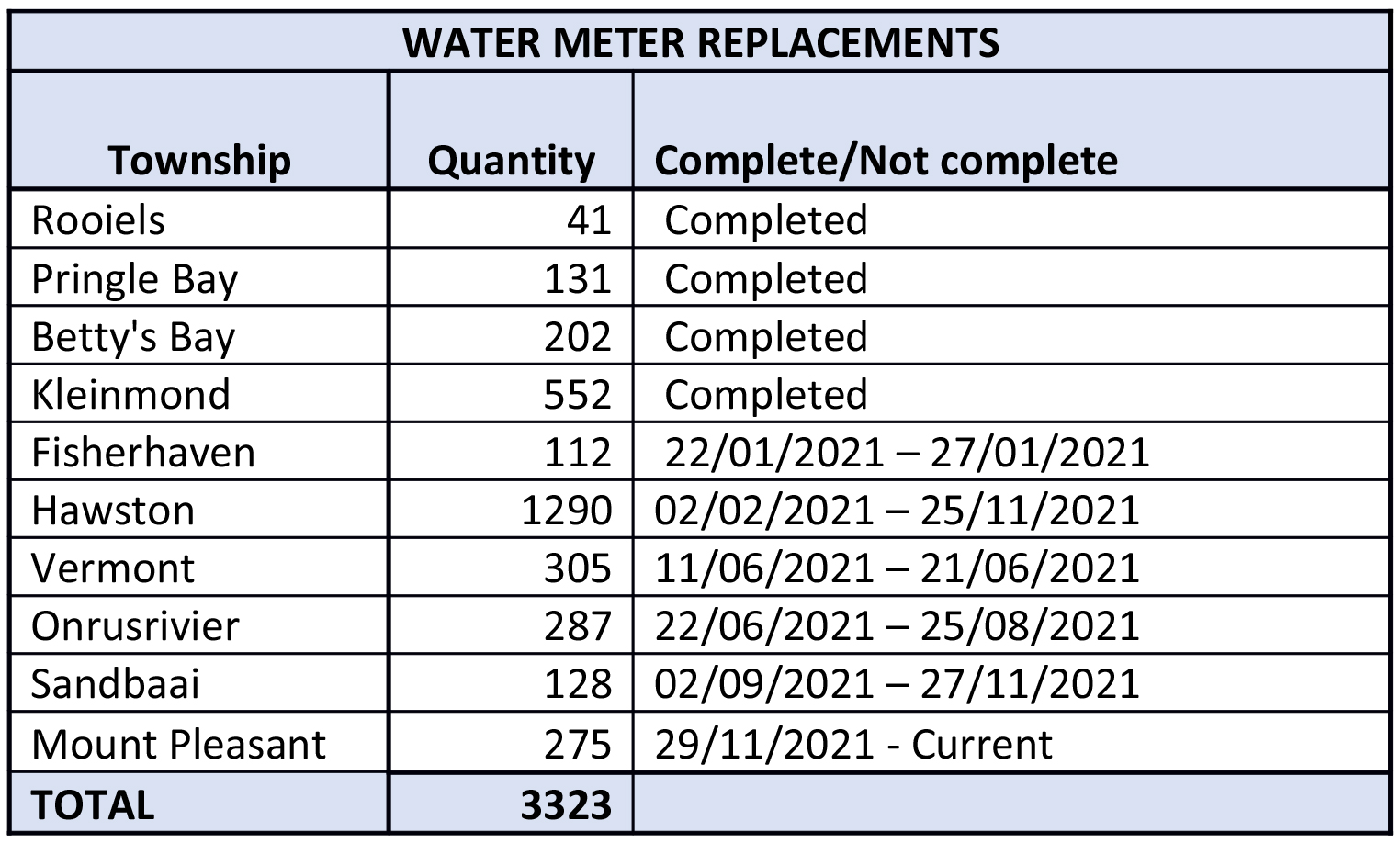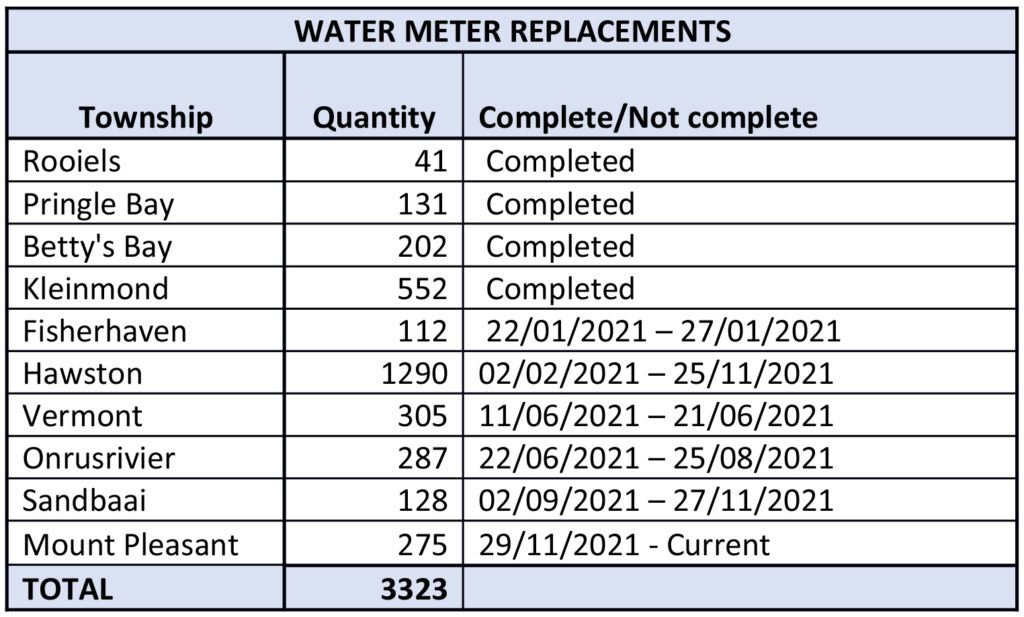 Overstrand Municipality is aware that meters have been replaced in Sandbaai and are currently being processed on the financial system. This means that consumers will receive more than one month's consumption on their municipal account. The Municipality will attend to the correct spread of consumption, when invoicing in accordance with the total period involved, for example 55 days, etc.
The Municipality will defer the water consumption costs related to the meter replacement project impact, over six (6) months, thus avoiding a big impact on consumers.
Please contact your nearest office should you not understand your account, or send an email to enquiries@overstrand.gov.za
We also kindly request that you continue to pay your average account if no consumption appears on your account and inform the Municipality accordingly.  Your consumption information can then be verified to prevent any subsequent queries on your account in the following months.