THIS SPEECH WAS DELIVERED BY OVERSTRAND EXECUTIVE MAYOR, DR. ANNELIE RABIE ON MONDAY EVENING, 28 FEBRUARY 2022, ON HER FIRST 100 DAYS IN OFFICE:
It was on 17 November that this Council was inaugurated amidst elation of an exciting election outcome.
All 27 of us were rather starry eyed and bushy tailed, ready to move and shake!
On 25 November 2021, Mayco was appointed and the whirlwind of excitement, rude awakenings, pleasant surprises, and no personal life started.
Hence allow me to at the onset thank the families of my Mayco for their understanding and support. My husband needs a monument for taking this public representative as a wife!
Mayco meets every morning @ 08h00 to reflect on the day before, the day ahead and the day at hand.
I also at this time, wish to thank and appreciate the dedication and commitment of our MM, Dean O'Neill for walking or should I say, running our own marathon. Through him the Administration is committed to work with the current political leadership.
During this time, I have worked closely with the MM to understand the structure and different functions and responsibilities of the directorates of the Municipality. As part of this process, I have had one-on-one discussions with all the Directors.
Our MM has a huge task to turn around a ship with an attitude of "we have always done it this way"; to one of how do we make it happen like yesterday. We trust the frank talking strategic session held earlier this year, will assist in fermenting this attitude
Change is never easy especially if the entrenched comfort zones are regarded as a right to employment.

Tectonic shifts are taking place in the way in which we do our business, and more shifts are necessary to ensure all our community engagements move us towards attaining our objective of an #Overstrand4all.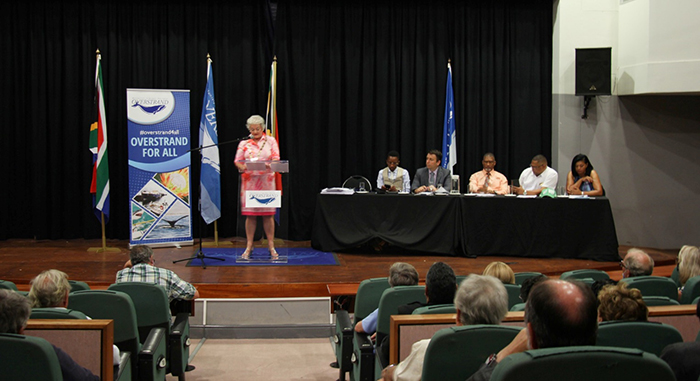 Before I report on our performance on our collective 100-day plan as announced, allow me to reference a few observations:

1.    It soon became clear that there are too many cooks in the governance of Overstrand. A myriad of provincial and national departments hold authority over for example, our environment. Security and management of especially forests are a serious security risk and so is the absence of any decisive and visible commitment to alien clearance. Similarly, there is a very large number of community-based organisations ready to assist and advise on every matter possible.

2.    We have various unfunded or underfunded MOUs costing our ratepayers money and I take issue with this. The Baboon Management MOU comes with a price tag of R30million over 3 years but no funding to match. Environmental matters, in terms of the Constitution is not our mandate, but since the environment is the bedrock for our Spatial Development Framework and how we want to develop Overstrand, as the Riviera of the Western Cape, we engage Cape Nature and the WC Department of Environmental Affairs on most matters. We similarly have a MOU for the repairs and replacement of the robots on the provincial R43/44 and we do not receive any funding in this regard. In the absence of a supportive and strategic relationship with the SAPS, OM has to increase its protection services capacity and the LEAP officers will make a huge contribution to same. Please allow me to thank the SANDF for assisting OM in a number of operations.

3.    Not all our officials are necessarily in support of the new way of working within the OM. Customer care and customer service are non-negotiable requirements should any one wish to work for the OM. We all have political affiliations, spiritual affiliations, sexual orientations, cultural beliefs, and a historical context within which access to government services are judged. It is within the ambit of the MM that all staff employed by this organisation, respects the vision of an #Overstrand4all and focus on that objective when going about their daily jobs. I am very aware of some pedantic and often rude behaviour towards the public. Allow me to state that the public is also not necessarily always the friendliest. I take myself and the abuse levelled at me as an example. I often wonder whether people speak to their own homefolk the way they speak to public representatives. I also often say we raised our hands.

4.    I was astounded and somewhat saddened to experience high levels of civil intolerance and irritation between and in communities. I trust that we will be able to all consolidate behind our vision of an #Overstrand4all. This Council has been democratically elected in the largest public participation process, namely LGE 2021. You may not like to outcome since you did not vote for my Party or you did not vote at all, but the outcome was decisive and hence we respectfully request that we try to work within the ambit of constructive engagement, agreeing to at times agree to disagree, yet keeping it respectful as fellow citizens of Overstrand. I am thus the Mayor of all citizens of Overstrand and not just for those perceived to have voted DA.

5.    We also came to realise that often, irrespective what, some citizens will never accept the answer given by the OM. Of course, we are at times slow in responding and often we do not even get back to people. Hence our Collaborator system and renewed focus on customer-care will address this. I would like to engage the MM as part of his KPI's to a committed turnaround time for acknowledgement of receipts and/or responses to questions asked. I often notice that matters have been coming on for years, yet a response is demanded from us in this 100-day period……and if we do not respond the negativity and downright rudeness boggle my mind.

Whilst in terms of calendar days it is 104 days since being sworn in on 17 November, it is only 66 traditional working days since being appointed to Mayco on 25 November. It feels like a lifetime though. Since our very supportive office staff, Tosca Korver and Whiles Jansen took office on 8 January we started recording who does what where and when. Allow me to mention a few statistics …… the executive office received 8820 emails on the official OM server; I on my two personal email addresses received nearly 4000 emails; Mayco attended a combined 786 meetings and site visits. 231 walk-in enquiries were also dealt with.

But we did not inherit a 100% good story. Being the successors in title, we decided to take the bull by the horns and typically me, I often storm in where angels fear to tread.
1.    We inherited a Schulphoek mixed used development not moving towards activation – I am extremely proud to announce that within one month after requesting a meeting with Premier Winde and MEC Simmers, the LAA was signed by our MM on Friday a few days ahead of the 28 February deadline. From tomorrow the Schulphoek Development is a provincial catalytic project in the hands of the Department of Human Settlements. Min Simmers will be in Overstrand tomorrow and we will issue a combined press release on the process moving toward the implementation of this project. It will clearly spell out the roles and responsibilities of both parties, as contained in the LAA.

2.    Unequal service delivery challenges in most of our non-formalised residential areas. We must stop pulling wool over our own eyes in that non-formalised residential areas are not eligible for basic service delivery. It is a constitutional imperative as contained in the Bill of Rights. Hence my concern that some properties, across Overstrand had their water supply cut off completely. As per instruction of the MM, this should now be sorted out.

3.    The municipal billing system created immense trauma and unnecessary tension. The CFO arranged a number of public meetings and in loco community opportunities to assist citizens. The outstanding public engagement of the Dept of Finance is with Wards 7 and 13 and this will take place on 10 March in the Sandbaai Hall I trust that by 31 March 2022 all these matters will have been addressed. I, therefore, request rate payers to please engage the OM before 31 March to deal with all outstanding account matters. In the meantime, you should as from this month receive an account that is more understandable. I still take issue with all the various tariffs but this I will address in our SOMA address when we present the budget to the Council on 28 March 2022. I need to mention here that there are immense issues with municipal accounts not being in the name of the user, but in the name of the owner of the property. Also, especially in the RDP housing environment, the original owner has passed on and died intestate with serious consequences to the current lessee or children, especially in child-headed households. In consultation with the MM, Mayco will urgently review the policy that accounts may not be in the name of the tenant. This will allow more people access the indigent service support programme and hence the payment of accounts become less burdensome.

The indigent policy is also currently under review. These policies will be included in the Budget Policy documentation effective 1 July 2022.

4.    We also notice that people take to social media to report matters, to complain or to air opinions. Especially our Protection Services and Community Services Departments are taking a hammering. However, unless you report a matter on the reporting numbers, it will hardly get addressed. I respectfully mention that we are not key board politicians, nor do we sit and wait for a social media post…..we get up and we go see for ourselves. At this time, allow me to thank these two Directorates for their assistance to the newly elected MMCs. Of course you can say, IF matters were better planned and/or managed, complaints will not be necessary. I maintain this is debateable.

5.    And then of course any Mayor's nightmare, is to receive a SIU, S106 and/or a Public Protector investigation into the affairs of your Council. I got ALL THREE within the 1st three months in office. I must be the only Mayor ever in this country who is so lucky! As successors in title, I cannot shrug my shoulders and say it was not me or I was not here. The MM engaged the SIU on Friday and the Letter of Engagement has been signed. It will cost us R3million as a minimum to do this investigation. The SHIGH LEVEL OPERATIONAL MATTERS ADDRESSED SINCE JANUARY 2022

The biggest favour the officials could do us newbies were to take leave during December whilst Council did not go into recess.

That allowed us to really do the rounds. At some point I was saying to the MM that I feel like the COO of OM.

Allow me to give you a quick glimpse of just one or two highlights across the Overstrand. IU is busy with the information mining process, and it is anticipated that the report will be ready by the end of June 2022. I am not sure what the Public Protector investigation will cost, if anything and I do not have a final answer on the S106 application brought by Together4change in relation to the HWS Contract. Both the SIU and the Public Protector investigations, in the main deal with matters relating to our housing department. I am very clear to the MM, IF we need to clean out, that's what will happen. I cannot allow any of our business processes to be unethical and shrouded in controversy and claims of impropriety. I, therefore, request members of the public if you have any information about fraud, corruption, maladministration and misappropriation of funds, please engage me. Bring me the facts, do not hide behind I am scared or I do not want to get involved. A corruption free environment is the only way to build trust and transparency. Given that this is now happening, I will request the MM to soonest institute full life style audits on all staff of this Municipality that work in an environment where a fee is payable or where waiting lists are involved.


HIGH LEVEL OPERATIONAL MATTERS ADDRESSED SINCE JANUARY 2022

The biggest favour the officials could do us newbies were to take leave during December whilst Council did not go into recess.

That allowed us to really do the rounds. At some point I was saying to the MM that I feel like the COO of OM.

Allow me to give you a quick glimpse of just one or two highlights across the Overstrand.
1.    Immediately on taking office, the Dept of Community Services started the town-cleanup operation. We are far away from having it all fixed, but I am satisfied that most of the towns and residential areas look much better than before. Dumping, as well as re-cycling remain problematic. However, new tenders and related processes have now kicked in.

2.    In the Peach House vicinity we engaged Abagold who provided the site plans of how they tried to solve the problems. It is now for the Municipality to determine why this remains problematic with water tables remaining high. It was important to get the street committee and private stakeholders together.

3.    Tomorrow 31 houses will be handed over in what is called Site C1. This is a carry-through project, but successfully finalised for hand-over.

4.    Water pipe bursts in Betty's Bay are a complete nightmare. The more we fix the more it bursts. I requested the services of a engineer from DLG to assist. The matter of Eskom and the innumerable electricity outages led to political intervention from my side and the MM met with the senior management team of Eskom in a bid to agree to the replacement and maintenance of near 40 year old infrastructure

5.    After 3 years, the Cove Street sand dunes in Sandbaai were removed. The issue of illegal building continues

6.    In Fisherhaven we substantially and visibly improved service delivery.

7.    Estuary management remains a challenge and a number of meetings have been held to determine who is the boss! It was especially the 30 December spillage in the Onrus Estuary that led us to arrange a meeting on 17 March with the in-country manager of Veolia.

8.    In Mount Pleasant the groundwork for the housing in-fill has started and good progress is made.

9.    In Stanford the allocation of housing serviced sites is being fast-tracked so that the current approved beneficiaries can get their land. This matter has been outstanding for years.

10.    The speed calming challenge in 7th Street Voelklip remains. According to our statistics, 1603 speed transgressions occurred on that specific road between 23 December and 27 February. I have informed the MEC for Transport of this and I am awaiting his confirmation of funding to install additional and/or adjusted speed calming measures. He will be in Hermanus on Friday to discuss the Appeldraai matter with us and I will engage him on this matter. I also informed him that in addition to this 1603 offenses, a further 5960 transgressions occurred on the other provincial roads in the jurisdiction of Overstrand. (7563)

11.    The Mussel River pump station was successfully upgraded

12.    The De Mond development tender is being redrafted after a number of site visits and confirmation that we would like to have a state of the art caravan park established there.
Let me get to the 100 day plan:

1.    Start of the business process review of the infra-structure planning and environmental services department: I engaged Min Bredell for the assistance of his Dept of Local Government in the meaningful restructuring of our current organisational structure. It is imperative the ensure alignment between the strategic direction of Council and the Administration. Funds have been secured by DLG for this purpose and once the service provider is appointed work will begin in earnest on the design of a future smart city organisation structure. The very successful 1st engagement of Cllr Lerm on Friday speaks to this requirement.

2.    Establishment of the Environmental Advisory Committee. I met with the members announced during December. In my 1st report on this matter, I indicated that we need to do more homework in relation to our constitutional mandate in this regard, our funding allowance in terms of the MFMA and especially the adjustment of our SDF to better accommodate our wish for the environment to be our non-negotiable foundation. The first discussions with experts in the drafting of our revised SDF already took place. In the meantime, we would need to better accommodate and interact developers and residents in the various Estuaries and the Biosphere.  It is proposed that a different set of building guidelines be drafted for Estuaries, Wetlands, sensitive areas and dumping sites. The situation in Zwelihle is particularly problematic and solutions need to be found pronto.

3.    Investment conference – Cllr Lerm dealt with this

4.    Customer satisfaction survey – Cllr Africa dealt with this. Allow me to indicate that the responses are available in my office should any one wish to see it. 2574 responses representing all 14 wards, were received. The biggest issue, again, is customer care and communication in a manner and language that the recipient understands.

5.    Introduction of the collaborator system – it was installed in the Executive Office and it allows for me to better track performance. Cllr Africa referenced the development of our citizen complaints app.

6.    Review of the universal access policy – this was done by the MMC and Director of Community Services and whilst I believe all policies are always open for renewal, the current policy meets the minimum requirements.

7.    Tidying up of taxi ranks in all towns- this has successfully been completed. We can however do more to harness the captive spending capacity of travellers. This is a matter Cllr Elnora Gillion will take forward.

8.    Appointment of additional LEAP officers – DM Lindile dealt with this

9.    Review of the membership of the Planning Tribunal – whilst the new members have not yet been appointed, Council did retrack its decision (need 90 days to do so) and is advertising for more members in order to ensure representation from Gansbaai, Hermanus and Kleinmond on the tribunal. Whilst there is a legal prescript as to the composition of the tribunal, it was agreed that it will be dominated by the industry and not officials as is currently the case. The advertisement calling for applications have been translated and submitted for publication.

10.    Review the EPWP business plans – it is in my office now and Mayco has expressed on how the programme will work going forward. The next round of funding to kick in on 1 April, will be managed in line with this philosophy. The EPWP programme needs to carry with it a clear training component and be open to all who wish to apply. I found politically-based appointments and I will not stand for that. Hunger does not wear a t-shirt.

11.    Review of the responsiveness of the festive season programme such as the lifting of unnecessary restrictions on venues and the review of tariffs: Our conclusion is that the festive season programme met expectations, but we can do better. Matters such as applications for use of beach based facilities belonging to the OM cause unnecessary stress and the need to separately apply for Dec and Jan have been stopped; the life-guard contract has to be adjusted to use our own children and young people; beach going behaviour remains problematic; should we have Blue Flag status? What about dogs on beaches? The leash on/off debate was an interesting one. I must express my disappointment with the business community who did not take up our offer for more outdoor hospitality opportunities. I am not sure why that is and we need to engage on that.

12.    The land audit – Cllr Lerm dealt with this

13.    The informal Piggery – Cllr Gillion dealt with this. This matter is seriously problematic. The Municipality cannot enter into any formal agreement with the pig owners unless the land is sorted out. The current conversations on this is taking a little longer than anticipated, but we rather take every one with as part of the conversation.

14.    Public open space maintenance plan being overhauled – Cllr Nutt dealt with this

15.    Outsourcing of basic maintenance work – this is an interesting one as there is clear disparity in interpretation between SCM and other units of the Municipality. The so-called small works tender was delayed and it is clear to me that business process integration is a serious administrative risk. The recent Concourt decision on tenders will have a negative effect on a number of our tenders.

16.    Discussion on all MOU's and contracts currently active in Overstrand. Mayco perused some 219 mou's and contracts and there are a number of these that we would like to engage with in terms of performance management and value for money, as part of the relevant portfolio committees. We have an issue that some of these can simply be extended. Some of them come over many years. This is not in line with consistent transparency, renewal of content and/or allowing new and upcoming entrepreneurs to contract with the Municipality.

17.    Council to engage in conversation on shack farming and the effective and efficient management of informal settlements: I have had a number of engagements with a variety of community leaders, including ward councillors and external experts on how to best deal with this illegal economy. For as long as we do not provide access to affordable shelter opportunities, shack farming will be with us.  Our housing waiting list is over 12000 units…..where do I get the land and the money given that I need R20million to ensure a cash-backed budget by the end of March 2022?
In assessing ourselves, we as Mayco believe that we have achieved our 100 day plan.
We obviously always can do better and more.
I am happy that OM was the 1st in the country to establish our ward committees. It is now incumbent on all ward committee members, who receive a stipend, to ensure their members and wards are truly represented. I reference Ward 3 which is huge with very diverse residential areas and hence needs. I am engaging the Speaker for his permission to allow additonal areas to be included in the ward committees as co-opted members. My approach of putting power back in the hands of the people needs fermentation through the ward committee system on the one hand and our public conversations on the other. I wish to thank the members of the public who take the time to attend these sessions.
We also need to consistently remind one another that Overstrand does include the geographic area from Pearly Beach to Rooi-els. Up to now most of our time was spend in Hermanus. We will have to change this. In this regard however, allow me to thank the area managers in Gansbaai, Hermanus and Kleinmond for dealing with the day-to-day management issues in your respective areas. You are an important part of this new Council and hence our working relationship via the Office of the MM has to be excellent, open and supportive at all times. We are all part of the same broader Overstrand.
Also allow me to add that this morning we were informed that the 1st exploratory cruise ship will dock on our shores on 7 April 2024. An initial estimated 200 passengers will put foot on our land. We need to be ready!
Charles Darwin at the age of 24, was quoted in the 19 August 1836 edition of the Journal of Researchers: "IF the misery of our poor be caused not by the laws of nature, but by our institutions, great is our sin.
It was true then, it is true now.