The final dress rehearsal of Nicky Spiwo Mlanjana's production 'Pandemic 2' was presented in the Hermanus Auditorium last night.
The play was well received by the small, but appreciative, audience.
The group of actors will take part in the annual Western Cape's Department of Cultural Affairs and Sport (DCAS) Drama Festival Finale on Saturday, 25 February at 13:00 in the Baxter Theatre, in the hope of winning the competition. Entrance is free.
Overstrand Executive Mayor, Dr Annelie Rabie, encouraged the cast (Luveni, Margarete, Nogqiza, Caroline, Wendy, Jukebox and Snokonoko) to believe in their dreams of performing on bigger stages.
She also expressed her excitement at the talent of actors in the Overstrand to the director/writer/producer, Nicky Spiwo Mlanjana, and wished them luck.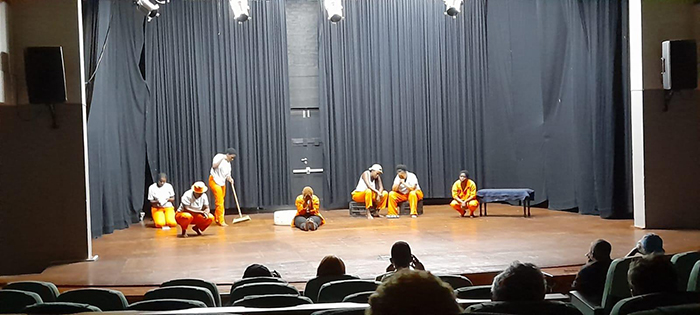 Spairo Art foundation was founded by Nicky Spiwo Mlanjana, a young man that had been left paralyzed after having TB Meningitis & a Stroke. During the same time his baby daughter was born and after seeing her he just knew he needs to get healthy and out of the wheelchair. He also realized that life is short and he need to live his passion, which always been the arts.
He then founded Spairo Art Foundation, where young people from his local community got the opportunity, not only to develop their skills as performers but also to keep them from the streets and other social ailments. These young artists are now role models to their peers.
Nicky or Spiwo as he is known, wasn't satisfied with only being a small group of actors. He worked hard with the support of some community members and his team to get them on bigger platforms, not only to better their skills, but also to broaden their horizons, to actively become a part of the bigger artistic community and most of all to inspire his actors to dream big and work towards realizing their dreams.
During 2022, the Department of Cultural Affairs & Sport hosted the Annual DCAS Drama festival in the Garden Route, Cape Winelands District, and the Overberg.
Spairo Art Foundation is one of 10 groups, and the only group from the Overberg that were successful in their performance at the adjudication showcase. The group had the opportunity to attend different workshops to further develop their skills in acting, directing, writing, and production as well as an opportunity to do a technical workshop at the Baxter Theatre to help them with the staging of their production Pandemic 2, on the 25 February 2022.
In preparation for their big appearance on stage, they will be attending the technical workshops at the Baxter Theatre, on 23 & 24 February 2023.
The group are already winners to get this far and if they are chosen to be number 1 this weekend, more opportunities will be opening up to them.
As part of the Overstrand Municipality`s Youth Development & GBV programme, the Hermanus Auditorium was made available for their final dress rehearsal to ensure that they are well prepared. This is also an opportunity for you, their local community to witness their talent and skills.
We are proud to support these local stars.