On Thursday, 16 September 2021, the Provincial Minister of Human Settlements, Tertuis Simmers, joined Overstrand Executive Mayor, Dudley Coetzee and fellow councillors and municipal officials in a ceremonial sod turning event for the restart of a new housing development project in Blompark, Gansbaai.
The Blompark Housing Development, which has a budget allocation of just over R 78 million, will deliver 539 top structures. If all goes according to plan, it is expected to be concluded by the end of March 2023.
The development forms part of the Integrated Residential Development Programme (IRDP). This effectively means that it will not only be a mixed development, consisting of houses for various income groups, but will also include commercial and recreational spaces.
On addressing those present, a clearly thrilled Alderlady Riana de Coning, Ward Councillor for Blompark, said she and the community of Blompark have been dreaming about this day for years.
In a brief history she described the excitement when the bull dozers moved on to the terrain in 2017; only to come to a standstill when the contractor went insolvent.
"Despite the disappointment and after many public meetings, the community members were still hopeful and had a deep belief that the project will continue – which it did when civil services continued in 2019 again".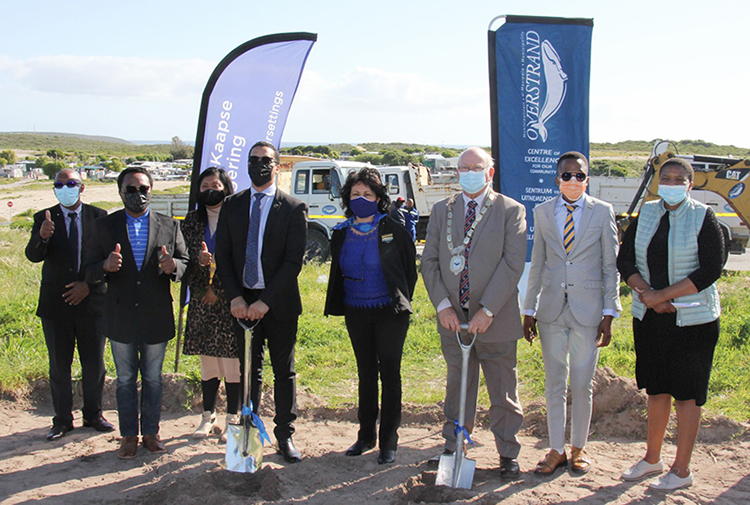 Then came 2020 and Covid hit us; and everything came to a stand-still.
By that time we were fortunately well on our way to the completion of the first phase. And the potential beneficiaries again understood the challenges and remained patient".
So here we are this afternoon for the ceremonial sod turning to kick-off – or rather jump start – the second phase in order to realise this communities' dreams. For us, it is indeed a wonderful, joyful and happy day," she stated.
In his keynote address, Minister Simmers said: "This is not only the start of a new human settlement development, but also the continuation of how the provincial and local spheres of government are working together for the people. This project will not only improve the living conditions of the people in Blompark, but it will make a significant difference to the other areas as well.
He further added that "as much as we've progressed with this process, I'd like to call on these communities to ensure that the sites are not invaded and to work hand-in-hand with their various Project Steering Committees (PSC) and local municipality to identify and finalise the beneficiary lists so that when the actual units are completed, the correct residents can benefit."
In closing, the Minister said it is critical that the potential beneficiaries are registered on the Housing Demand Database, and that they are the most vulnerable in these communities – and they are the elderly, who are 60 years and older, those with medically certified disabilities, those who have been on the waiting list for 15 years and longer, as well as backyard dwellers."