Residents in declared problem baboon areas of Overstrand such as Kleinmond, Betty's Bay, Rooiels, Pringle Bay and Voëlklip have been pleading with the Municipality to distribute more baboon proof bins in public open spaces, picnic areas and at beaches along the coast.
Waste is a huge attractant for baboons who forage in these areas for food, and we must all work together towards effective baboon management by ensuring refuse is managed optimally.
Implementing efficient baboon management protocols before baboon raids and invasions becomes the norm, is the answer to manage the baboon/human interface effectively in these areas. Dealing responsibly with waste is one of the simple ways we can contribute to the health and well-being of wildlife and our own families.
To this end Overstrand Municipality appointed a service provider to convert the municipal public bins into animal proof bins in the Hangklip-Kleinmond area, and 45 bins have been ordered for the West area. The aim of the project is to ultimately replace all the current, unprotected blue swing bins in public areas across Hangklip-Kleinmond with such baboon-proof bins.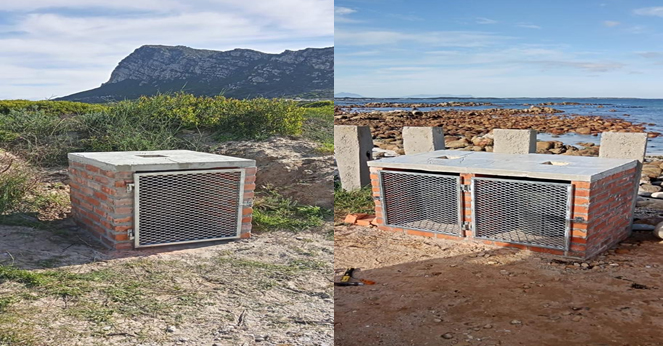 In a 'feed the bin, not baboons' collaboration with Overstrand Municipality and the respective Baboon Action Groups, the Hangklip-Kleinmond Community and a local newspaper, bins were upgraded and converted into animal proof bins.
The first baboon-proof public bin was installed at the end of October 2021 along the beach path close to Aasbankies in Silver Sands.
Currently there are three public bins installed by the Municipality in Maasbaai in Hangklip with the assistance from the Pringle Bay community.
The Municipality donated the materials (bricks, sand, stone and cement) and the Pringle Bay community did a fund-raising exercise to pay for the labour, brackets and locks. The community arranged and managed the construction.
The bins with donated brackets were removed from Maasbaai in Hangklip to be used in Kleinmond. Two of these bins were placed at the corner of 4th Street and 15th Avenue, replacing the old blue swing-bins. The third bin will be re-installed at the top end of 6th Street. The last one needs a concrete footing to be re-cast and the other two were removed with the concrete footings intact.
This project has shown that much more can be achieved with collaboration between the different stakeholders and by pooling resources to create the maximum effect. Well done to all stakeholders who were part of this project.