To promote Earth Day in the towns of Gansbaai, Stanford, Hermanus and Kleinmond, Overstrand Municipality's Environmental Management Services (EMS) decided to make a difference in caring for Earth by planting trees on school grounds.
The 2022 theme for World Earth Day was 'Invest In Our Planet'.
Michael Henn, Lwazi Mblili, Zena Metsho, Chester Arendse and Somleze Sithetho of the Environmental Department agreed that this was an ideal opportunity for environmental education and to teach children how to dig the hole, preparing the soil, and planting the tree.
The EMS team planted three Celtis africana (White Stinkwood) trees at Masakhane Primary in Gansbaai; three at De Bron Primary in Stanford and three White Stinkwoods at Hermanus Waldorf. The crèches in Kleinmond (Heideland, Siybulela and Bambanani) received 1 White Stinkwood tree each.
By celebrating Earth Day, people can also create changes in their communities that will have a positive impact on the world around them.
When people plant trees they are doing more than just beautifying an area. Trees are beneficial to the environment in numerous ways. They help produce oxygen and filter out pollutants to clean the air. In addition, trees also help preserve water levels in the soil.
Let's not wait for next year's Earth Day to take care of our planet.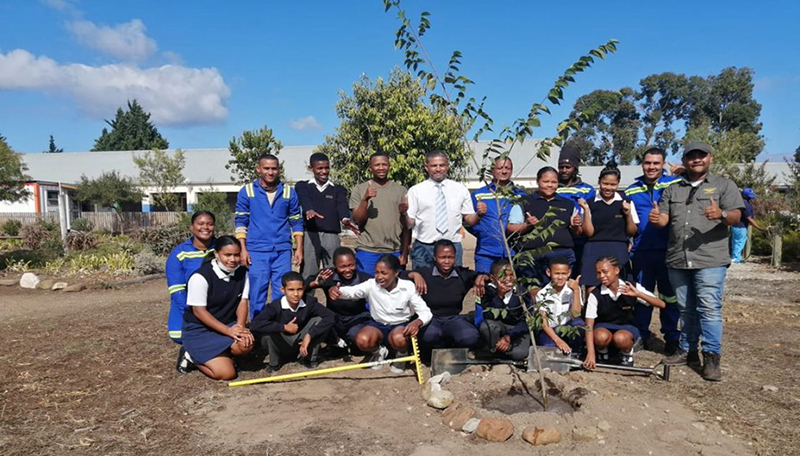 Pictured here are the prefects of Die Bron Primary in Stanford with (left to right) the EMS Team Megan Kapot, William Fortuin, Someleze Siteto, Principal Lionel Pedro, Bradley Gillion, Siyabulela Ndavuza, Ryan Young and Chester Arendse.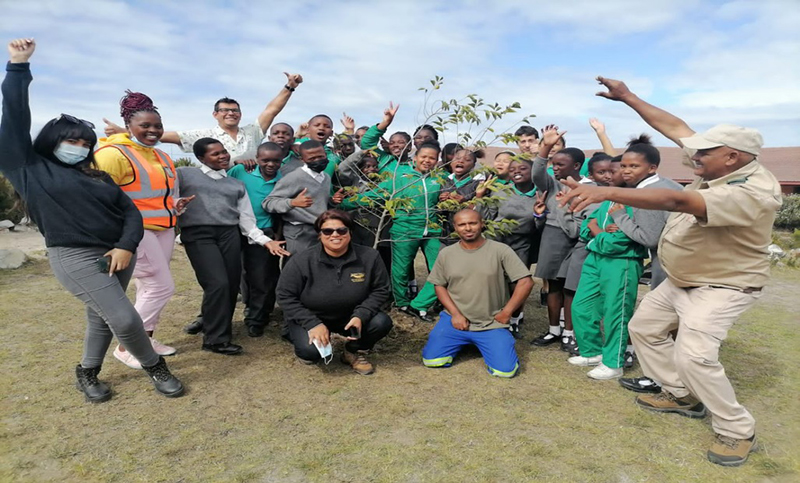 From left to right Danielle Smith, Sinoxolo Maguduza, Waldorf Prinicipal Bertus van Zyl, Michael Henn – Sitting in front Heloise Fortune and Raymonde Daniels with the Gr 7 learners of Waldorf School in Hermanus.